This Memorial Day weekend we will be CLOSED so that we can spend time honoring our fallen soldiers, appreciating family & loved ones and counting our blessings for our health and friendships we have developed over the years. Thank you for all your support during these extremely trying times. Be healthy, stay safe and have a wonderful Memorial Day weekend. God Bless America!
28 Main Street Hamburg, NY 14075 | (716) 649-3355 | (800) 434-3355
Country Basket Blooms
Item #
T48-3A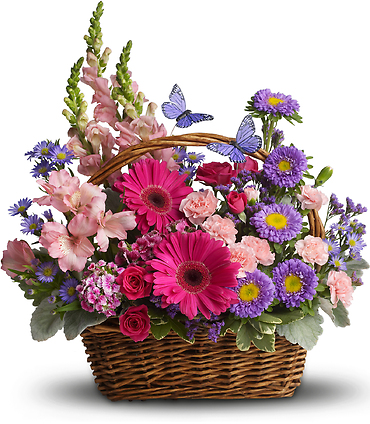 This item is not available online. Please call for purchasing options.
Take a walk through a country meadow with this fresh flower basket! Pretty blooms of pink and purple nestled happily inside a natural gift basket as playful purple butterflies flutter overhead.
Approximately 16 1/2" W x 16 1/2" H